What is Plastic Dip

The Mibenco/ AutoSprühFolie plastic dip is a liquid foil for spraying. It is a multifunctional, one-component rubber coating which can be applied by spraying lightly and quickly.

Mibenco/ AutoSprühFolie liquid rubber rubber shines through his huge diversity: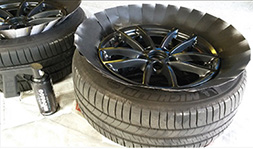 It liquid rubber protects, rubberizes, repairs, refaces, coats, seals, adds grip and is slip resistant. A high flexibility is reached even under extreme conditions. The liquid rubber doesn't get brittle or fragile, is car wash resistant and sticks on metal, wood, synthetic material, textile, glass, stone and others. All mibenco/ AutoSprühFolie liquid rubber colors are available in matt and gloss.

Mibenco/ AutoSprühFolie is the ONLY plastic dip that also can be combined with Hydrographics dipping! Replace the basecoat and clear coat with the plastic dip variants and even the hydrographics dipping is removable.

Some Mibenco/ AutoSprühFolie advantages:
– Removable
– Car wash resistant
– Extremely durable
– No clear coat plastic dip required
– Matt or gloss finish
– Adheres to almost all materials
– Can be combined with hydrographics dipping
It is possible to finish the Mibenco/ AutoSprühFolie color with a clear coat plastic dip for extra protection and chemical resistance but it is not necessary.

The plastic dip is available in:
* Spray can * Pot system
– Ral matt/ high gloss – Transparent matt/ high gloss
– Neon – Ral pigments for transparent plastic dip
– Chameleon – Effect pigments
– Effect – Clear coat matt/ high gloss
– Clear coat matt/ high gloss
– Rims foil sets

We also have a great range of accessories.
The plastic dip in Pot system is made by mixing ral color pigments with transparent plastic dip. The big advantage of this is that you don't need to have a pot in stock for each color but only the color pigment.
Order the products easily and quickly in our Webshop !!